Why Is My Website Not Getting Traffic?
Your brand new website for your business is finally live. It's modern and sleek, your product photos are stunning, and you spent a lot of time and money making sure everything looks just as you want. After launching your site, your work is done, right? Right?! RIGHT?!
Not exactly.
Unfortunately, the Internet isn't akin to the greatest sports-fantasy-drama film of all time.
"If you build it, they will come."
"They won't know why," says the film, implying that people will simply gravitate towards you because of this accomplishment.
While this iconic misnomer conjures images of people flocking to your newly built website to spend money on your products or services, the Internet isn't the place of miracles. And it's not small-town Iowa, either. The Internet is ever-expanding; there are currently around 2 billion websites, with about 576,000 new websites going live daily. That's some stiff competition.
So, what ends up happening after your site goes live?
Let's say, for example, your website goes live on a Friday.
And then, a week later: No traffic.
A month has gone by, and still: No traffic.
You get the idea.
There are many reasons why simply "building it" isn't quite enough. For example:
How do prospective customers or clients know you've built something?
Do you have a strategy in place to reach qualified leads?
Did you use data to build it? Or are you "trusting your gut?"
How do you plan to build trust with your customers?
Why Isn't My Website Ranking on Google?
The shortest and most powerful answer is this: You need unique, high-quality content in order to rank.
Content writing can be difficult, especially if you aren't a content enthusiast. (So don't get down on yourself!) Instead, consider these numbers: An astonishing 98% of all marketing teams say written content is their most-used content type, yet one in three marketers admit their content writing is only "somewhat" or "not so" effective.
In other words, there is an incredible amount of content on the web that isn't doing what it should be.
Buying links, guest posting, outreach, and hiring SEO "experts" and social media "gurus" are the least of your problems.
Instead, you must focus on:
Meeting your readers' true needs with high-quality, thoroughly researched content.
Your unique expertise, niche, and brand messaging.
Adding fresh, relevant ideas to the web on a regular basis.
Successful content marketing depends on these three keys, regardless of industry or niche.
Let's dive a little deeper, shall we?
First, it's critical to understand that Google has made several changes to how its crawlers understand how content answers queries over the last few years. Most recently, those changes have included more algorithm updates, including sophisticated enhancements to natural language processing and machine learning models like BERT and MUM.
These updates help Google better understand how people are searching for topics and what type of content the user is actually looking for to meet their query needs, then how pieces of content across a site can best match those needs. The end goal is to serve the best content possible for the user to enhance their search experience.
As long as there's even a small demand for the information you're publishing, all you have to do is create better content than anyone else, and you will see results.
What Makes Content Great? 
Your content should always:
Solve a problem for your target audience or meets a need they have.
Remember, your content will be even more successful (i.e., higher engagement and conversions) if it satisfies the specific needs of this ideal customer. Always give them needed information or the solution to a common problem.
Have a system in place for getting regular traffic.
As discussed above, you can't just build something and expect your ideal customer to find it. This is where keyword research, competitor analysis, data insights + analysis, and content promotion come into play.
Bring website visitors further into your sales funnel.
Don't lead potential customers to your website without offering a way for them to engage further. This can be accomplished in a number of ways, for example, including CTAs to purchase your products or services in your blog posts and opt-ins to your email marketing list.
Stay on-brand to foster trust and loyalty.
Your brand is your strongest asset. According to Edelman research, when trust is built with a brand, 61% of people will become vocal advocates, 57% of people will purchase more products, and 43% will stay loyal.
The bottom line? The faster you get good quality content on your site, the faster you'll begin to rank on SERPs (search engine results pages) and build trust with your potential customers.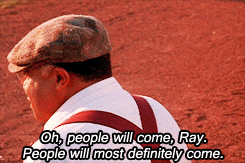 What Exactly Are SERPs and Why Are They Important?
There are over 105,000 search queries on Google every single second. Whenever a consumer searches for the answers to their questions, it returns a page full of results matching their query. This page full of results is called the Search Engine Ranking Page (SERP).
SERP is unique for each specific query based on the keywords and phrases used when a consumer searches for their results. Google considers the location of the searcher, the past browsing history on that IP Address, and many other factors.
SERP is important because the higher a company's website ranks, the more searchers will click on the website.
What is Content Marketing?
In a nutshell, content marketing is the production and publication of online materials that introduce your brand to your target market, build trust, and persuade them to make a profitable action. That might be subscribing to your blog or email newsletter, following your brand on social media, or making a purchase. Unlike traditional marketing techniques (AKA any type of marketing that isn't online), content marketing is non-interruptive. That means your target market can consume it on their own terms when they're ready and interested. And that makes it much more effective at generating leads and sales than techniques like banner ads or pop-ups, which interrupt people when they're trying to do something else.
What's more, research has shown that content marketing is a more cost-effective marketing strategy if you compare traditional marketing with content marketing. According to a recent report by Demand Metric, content marketing efforts cost 62% less than traditional marketing efforts, generating 3x as many leads, making it an extremely cost-effective way to reach your target audience and build trust.
What is Authoritative Content? 
Simply put, authoritative content is unique content that informs the reader, demonstrates subject expertise, and provides the right level of depth for the target audience.
It's a piece of content (such as a blog post or long-form article) that will help the reader answer their question or find the information they're searching for.
Authoritative content establishes your website as an expert on the subject and a trusted voice.
You can create this experience for your readers by publishing well-researched content that is backed by data, unique insights, and information that's not easily accessible.
Aside from this concept being strongly valued by Google, it just makes sense.
Why? Because content builds trust.
Take a minute and put yourself in your target customer's shoes.
When you need help with something:
Wouldn't you rather read content from someone who knows what they are talking about?
Wouldn't you like information from someone with authority and high credibility?
Wouldn't you stay away from someone that just regurgitates existing information on the Internet?
That's what Google wants from your new site, and that's what a successful content marketing strategy is centered around. So if you're not already using content marketing to grow your business, now is the time to get started.